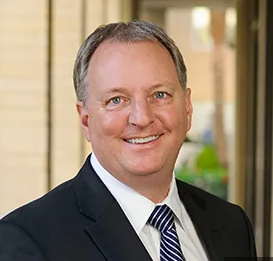 Andy Hendricks
Patterson-UTI Drilling Co
Wm. Andrew "Andy" Hendricks has over 30 years of experience in the global oil and gas industry and joined Patterson-UTI Energy in early 2012 as COO and was appointed CEO later that year.
Prior to Patterson-UTI, Mr. Hendricks worked in a number of positions at Schlumberger for 24 years, where he last served as a drilling division President, having lived and worked around the world in the energy industry, offshore and onshore, and doing business at times in Spanish and French.
As CEO at Patterson-UTI, he has focused on transformation through investments in people and technology, growth through strategic acquisitions, improving diversity in recruiting & leadership and also enhancing the company's sustainability and ESG position.
Mr. Hendricks attended Texas A&M University, receiving a Bachelor of Science degree in Petroleum Engineering, and then began his career working on an offshore drilling rig in the Gulf of Mexico for Ocean Drilling & Exploration Company (currently Diamond Offshore).
Mr. Hendricks is a past Chairman of the International Association of Drilling Contractors, a member of the Society of Petroleum Engineers, an energy contributor on CNBC and has testified on energy matters with the U.S. Senate Committee on Energy and Natural Resources in Washington D.C.
About Patterson-UTI Energy
Patterson-UTI is a provider of oilfield services and products to oil and natural gas exploration and production companies in the U.S. and other select countries, including market leading positions in contract drilling, pressure pumping and directional drilling services.